SPARK stands for Self and Peer Assessment Resource Kit.
At UTS you can use SPARKplus, a tool offering group, self and peer assessment with sophisticated reporting.
SPARK in Group Contribution Mode
There are several modes of operation in SPARKplus – hence the 'plus' in the name. Most people just call it SPARK.
SPARK promotes equitable participation in group tasks. By helping students recognise their choices about how they participate in groups SPARK can be very effective in promoting more equitable and thoughtful participation in group tasks. SPARK has several modes of operation, but the most commonly used mode —Group Contribution— enables students engaged in group work to rate each other in terms of performance against criteria and to provide anonymous written feedback on their peers' contributions on team tasks or individual submissions.
While SPARK was initially designed to aid in the development of team skills, enhance the team experience and to determine individual contributions to a team project, its functionality has been extended over the years.
For the teacher
The aim of SPARK is to enable self and peer assessment tasks to be simply constructed and to monitor the results of those assessments – presenting the results in a concise easily understood format. SPARK can be a useful lens through which a teacher can observe group dynamics. The information provided can help both teachers and students navigate the challenges of teamwork.
SPARK might help inform adjustments to a student's marks if significant problems within a group are revealed, but only after students have been made aware of the issues and given the time and opportunity to respond. In this way it can be part of the formative assessment in your subject.
For the student
SPARK helps address common complaints in group work:
Equal marks for unequal contributions

'Free-riders' known also as 'social loafers' and 'passengers' not getting penalised

Better students inadequately rewarded and demotivated because they feel their efforts are 'carrying' the team.
Beyond the punitive implications, SPARK can provide a mechanism for constructive personal and group reflection and can be part of their formative assessment.
When you use SPARK matters
SPARK can be used after an assessment has been submitted to gather evidence of inequity in groupwork. However running SPARK sessions also prior to submission provides an opportunity for students to reflect on both their own and their group's progress. This self-assessment allows for adjustments to be made early enough to make a difference to the final outcome.
Beyond SPARK
Consider other team work activities in class to foster the collaborative mindset. While useful, SPARK is just part of your teaching toolkit for group-based assessments. Your IML faculty academic liaison or learning technologist can help you explore other complementary options for Enhancing experiences of group work.
Things to consider
Put a link to SPARK in your UTSOnline subject area
A button in your UTSOnline subject menu will make student access to SPARK easier.
Ensure students know early that SPARK will be used (and explain why)
Students need to be aware that they will be using SPARK for self and peer assessment before they start work on their group task. It is worth explaining what SPARK is and why it is being used. When students know that they are being rated by their peers they will realise that free-riding and other dysfunctional behaviours are likely to incur a cost to their grades.
Are you considering using SPARK for an interim rating?
An interim rating, about half way through the group task, can be used to give students some practice in using SPARK and to provide a health check for group processes while there is still time to resolve problems. Interim ratings are usually only for formative purposes, and therefore not marks are allocated. Three criteria would be sufficient. Teachers are strongly encouraged to schedule an interim rating so that students (and first-time-use teachers) develop a better understanding of the SPARK workflow. An interim rating is a separate task in SPARK and this will need to be configured.
SPARK ratings start and end times
Students will need time to complete their ratings. Many instructors give students a week for this, especially if the students are expected to conduct their ratings in their own time. A SPARK session run as part of in-class activities can have a very narrow time frame.
Students can provide anonymous feedback comments to their peers
SPARK provides an option for anonymous peer feedback. This encourages more candid—perhaps more accurate— reflections. You will need to prepare students for the responsibility of providing productive comments, by showing them examples of constructive feedback. You have the option to block publication of individual comments if they are deemed inappropriate.
What steps will you take to encourage students to complete their ratings?
Meaningful ratings can only be produced if all—or most—students in a group complete their ratings. Anonymity is only possible with three or more ratings. You will need to regularly monitor progress and use the "email non-submitters" button on ocassion to chase up those who have not yet rated. You should consider the possibility of a penalty for non-raters. Ratings cannot be entered on behalf of a student.
How will you use the information produced by SPARK?
SPARK produces two indicators of performance relative to the group:
Relative Performance Factor (RPF)

– the student's rating relative to the group average rating. The RPF factor is usually interpreted as the student's contribution compared to the average contribution for the group. If the performance factor is less than 1.0 then the student performance, as rated by peers, is lower than the average performance for the group.

Feedback factor (SA/PA)

– The Self Assessment relative to the Peer Assessment, or the student's self-rating relative to the average of this student's rating by peers. If the performance factor is greater than 1 then the student's self-rating of contribution is greater than his/her rating of contribution as given by peers.
Interpretation of these factors requires care and thought if they are to influence the weighting of individual marks for assessment of a group activity. The term 'average' in SPARK doesn't mean a student performed ordinarily (or was mediocre), it actually means relative to the other group members they were equal contributors in effort.
SPARK can help reveal that a problem exists within a group, but it doesn't necessarily pinpoint where a problem lies or what the exact causes are. Early intervention with student(s) is recommended in order to address groupwork issues.
The RPF reflects how a student's performance compares to others in the group (across all criteria). A value greater than 1.0 suggests they are perceived to be performing above the group average. If it is less than 1.0, the student may be performing below the group average.
SA/PA tells how a student's self ratings match up with their peers' ratings. If it is greater than 1.0, it means their self appraisal is higher than how their peers' have viewed their performance. If it is less than 1.0, the student's peers view their performance more positively than they do of themselves.
Ratings sliders: why can't the sliders be pushed all the way to the ends?
In a typical SPARK set up an 'average' is forced and the system automatically adjusts ratings to give an overall average rating to the group (in SPARK this mode of behaviour is called 'forced norms'). This slider behaviour ensures that participants can't all be rated highly, and helps prevent students from inflating grades for themselves or the whole group. If someone is rated high, by implication someone has to be rated lower – it is a relative measure of performance within the group. This forces students to think carefully about their judgments and to be fairer in their rating of others.
Think of group ratings in SPARK like slicing up a cake. If you make equal slices for everyone, then this implies all members performed equally well (thats what 'average' means in SPARK). If you give one student a bigger slice than everyone else, then logically, there has to be less cake left to be split up with the rest of the group. It becomes very obvious when a student has attempted to take the biggest slice for themselves!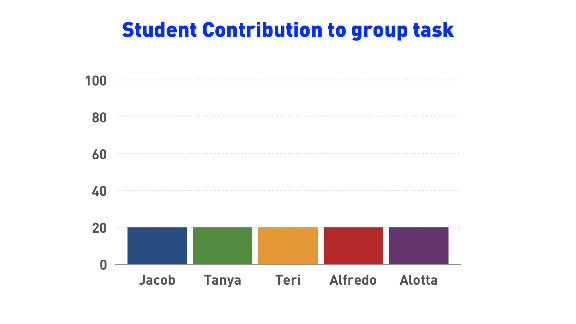 Explaining SPARK to students
How and when will you be explaining SPARK to your students? Ideally you should allow time for you and your students to learn what you need to know about SPARK before using it — and before the students begin their group activity. Support and assistance with SPARK is not always available at the last minute so allow plenty of time to prepare.
Students should know before they start on their group task how and why SPARK is being used. When students know that they are being rated by their peers they should realise that free-riding and other dysfunctional behaviours are likely to incur a cost.
If you are intending to use SPARK to help inform any moderation of students' marks you should communicate this in class and in your subject outline, as this can help students see that a lack of participation and contribution *may* have an impact on their final grade.
Explicit categories and rating criteria in SPARK help students understand what is expected of them in the group work process – explain these up front. A dedicated UTSOnline discussion forum is the recommended way to manage questions from students about SPARK.
Download this basic instructional guide to share with your students in UTSOnline. It outlines the basic steps necessary for students to complete a standard SPARK rating session in Group Contribution mode. Place this somewhere appropriate in your UTSOnline subject and point this out to the students (the sample email below addresses this in paragraph three).
Example email announcement through UTSOnline to students
SPARK for <task name here> is now open – Participation is Mandatory
Dear students,
It is time to start assessing your group member's contribution to <task name here>.  A SPARK (Self and Peer Assessment Resource Kit) session is now available and can be accessed at https://uts.sparkplus.com.au and  in the menu on the left hand side of our UTSOnline subject page [ensure that this is the case]. It must be completed no later than <date here>.
There are instructions in UTSOnline to help you access and complete the group contribution survey. These instructions can be accessed in the <explain here where in your UTSOnline subject site the instructional guide can be found>.
Your SPARK contributions can have an impact on final grades. Constructive feedback you provide about your teammates is <anonymous><public>. Be fair, realistic and respectful in your assessments of yourself and others. Credit teammates who are generously contributing and respectfully note (with context) any teammate who is not doing their fair share.
Regards, <instructor's name>
Frequently asked questions
What information should I include in ServiceConnect help requests and emails about SPARK?
To help us keep track of your requests please include the word "SPARK" in capitals, and your subject number in the ServiceConnect help request or email message title (for example: 'Need help with SPARK 89012 setting up groups'). Provide any helpful information, including staff/student numbers if that is relevant.
Will there be a mark I can transfer directly to my subject grade sheets?
SPARK is very useful in terms of moderating marks given for a group project in Contribution Mode, but does not provide a mark or grade that you can use directly. Instead the results in SPARK should only be used to help inform the marking process alongside other observations and evidence.
SPARK is particularly helpful in locating those students who have been free-riding or disruptive, as well as those who have gone above and beyond the call. It does however require some considered interpretation of results by the teacher to spot situations where students have tried to game the system or where students simply picking on someone they don't like.
Will the identity of rater be visible to the students? Will students see individual comments?
No, as long as you don't select the option to make comments available and don't publish the results. Student names are displayed if published, hence it would be wise not to publish. If you do choose to make comments and identities visible, you will need to moderate the comments before publishing – which can be time consuming in a large subject.
For the task of reviewing contributions in SPARK, is it normal practice to "publish" all ratings and comments?
This depends on what you told the students. If you said that you would, then publish. If you didn't then it is unfair on the students, as they may have been unguarded and ruthless in their comments on each other thinking you would be the only person who would read comments. If you still wish to publish, you will need to moderate all comments before publishing to ensure conflicts don't erupt between students.
Alternatively, you might choose to run a SPARK session 'in the open' as a peer assessment exercise, where students are required to provide constructive feedback to each other. This might be for an exercise in presentation skills where the students are assessed not only on their presentation, but also on the thoughtful and practical quality of their feedback. In this case the students need to see each other's comments and you will also be marking those comments.
Is there a commonly accepted threshold where deviation from 'average' prompts grade moderation?
It is recommended that anyone below .90 and above 1.10 on the RPF scale might be considered for moderation. You can disregard ratings close to the average contribution (the middle between 0.90–1.10), because it means all team members are roughly contributing equally in the group task. Otherwise, where you set that threshold and what you pay attention to is your choice.
A high SA/PA can reveal a student trying to 'game' the ratings by overrating themselves. This factor helps reveal the low contributing student who is trying to inflate their own efforts. In this scenario you can exclude their self-rating from the overall calculation and the RPF across the group will return to a more 'realistic' representation unskewed by the exaggerated individual rating.
In all cases where the ratings are outside the norms, it is necessary to look closely at the student comments for evidence supporting the high or low scores.
When used effectively, SPARK can help inform the grade moderation process. The decision to moderate a student mark always rests with your judgement as the subject coordinator.