On this page:
What is Turnitin?
Turnitin is software that compares your written work with existing written work from web pages, previously submitted assessments, library databases and publications.
Turnitin detects similarity; it does not detect plagiarism or academic dishonesty. It is up to you, and ultimately the person marking your work, to judge whether it demonstrates an appropriate level of originality and academic honesty.
How is Turnitin used?
While Turnitin is used to analyse similarity between new text-based document submissions and existing documents, it can also be used to provide feedback and marks for assessment tasks.
Subject coordinators will let you know how they use Turnitin in each subject, on which assignments, as well as outline their expectations of you in relation to the use of Turnitin.
Turnitin identifies matching text and calculates this as a percentage, referred to as the 'similarity percentage' and indicates this by colour representing ranges of similarity.
Blue: No matching text

Green: One word to 24% matching text

Yellow: 25-49% matching text

Orange: 50-74% matching text

Red: 75-100% matching text
Depending on how your subject coordinator has configured Turnitin, you will be able to:
see where matches occur in your document and the source of any matches that have been identified.
resubmit a modified version of your task before the due date.
If you are allowed to resubmit your task, you can use the information provided by Turnitin to make sure you have sufficient original material in your task and that you have cited and referenced your sources correctly.
Depending on the way the subject coordinator is using Turnitin, you may also be able to view your assignment feedback in the form of:
a mark for the task
comments throughout and/or at the end of the document
a voice comment
levels of achievement on a rubric or grading form
a combination of the above
Where do you submit your assignment through Turnitin?
To submit an assignment through Turnitin you need to go into your subject. How you submit a Turnitin assignment depends on which of these type of assignment has been chosen by your instructor:
Turnitin assignment submission process
STEP 1 – Go to your subject in and locate your Turnitin assignment. Use the Upload Submission button to get started.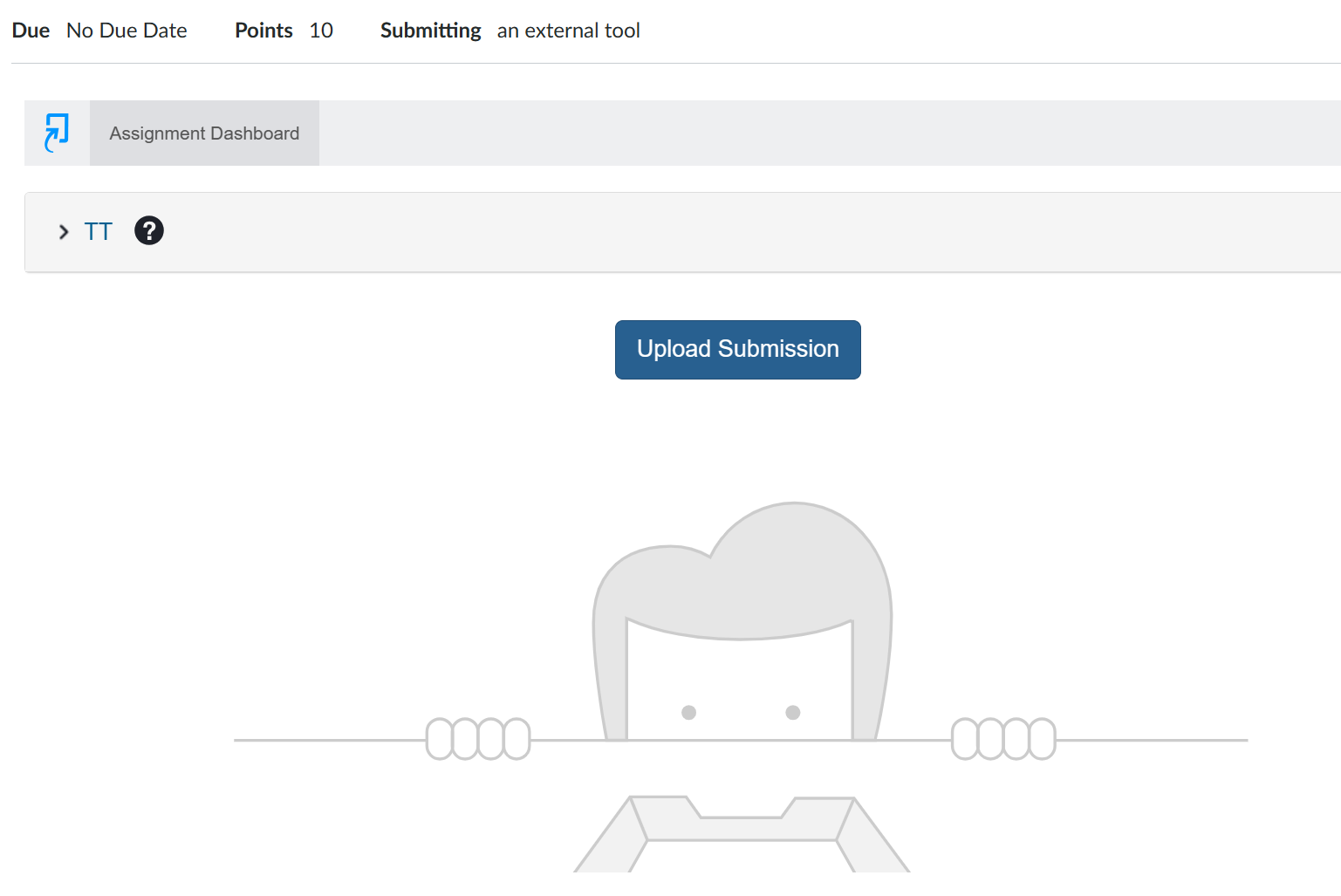 STEP 2– Use the Choose file button to find the file you'd like to upload
STEP 3 – On the 'Assignment Inbox' panel, you can check that you are making the correct submission. Review the details of your submission by clicking on the Preview submission button. Select the 'Submit to Turnitin' button on the far right to begin the assignment submission process.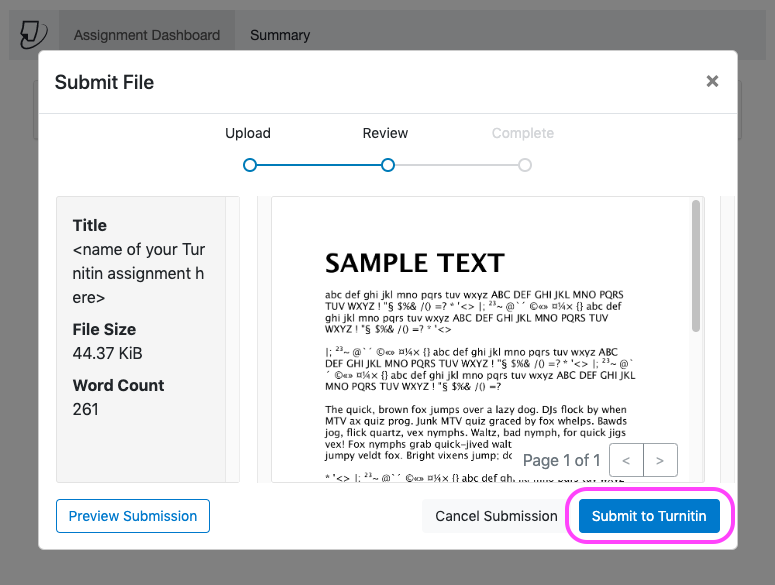 Now you are back into your assignment page, below demonstrates where you can download your submission receipt:

If your instructor allows students to view their "Similarity reports" after some time, you can click on the Similarity tab and view your submission details.
Steps in brief:
view the file you submitted
see your grade (if marked)
see the similarity match indicated as a colour and percentage (the similarity analysis could take a few minutes to process). Selecting these launches the Turnitin 'Feedback Studio' where you can view your submission and see detailed originality information (if permitted), see feedback from your teacher (if provided) and download your digital receipt (proof of submission)
resubmit to upload a revised version of your task (if permitted)
download the original file you submitted
download the digital receipt (proof of submission) for the file you submitted

Plagiarism Frame work: assignment submission process
STEP 1 – After selecting a Canvas assignment, if the page in Canvas looks like this, select 'Submit Assignment'.

STEP 2 – You will be taken to the 'File Upload' page where you:
choose your file(s) for submission
select 'Submit Assignment' to upload your file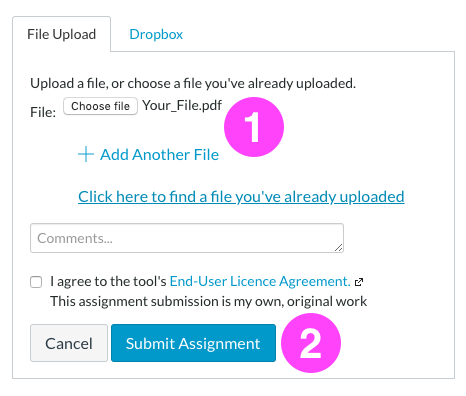 STEP 3 – After you select 'Submit Assignment', you will be returned to the assignment page where you will have confirmation that your assignment has been submitted. From here you can:
'Re-submit' your assignment (if permitted)
view your 'Submission Details' to see detailed originality information, feedback from your teacher (when provided) and launch the Turnitin 'Feedback Studio'
'Download' your submission file

STEP 4 – If you chose to view your 'Submission Details' (in the previous step), you will be able to:
see your Grade (if marked') and 'Show Rubric' used for marking (if available)
'Re-submit' your Assignment (if permitted)
download your submission file
launch the Turnitin Feedback Studio by selecting the coloured 'similarity indicator' (the similarity analysis could take a few minutes to process)
'View Feedback' from your teacher (when provided)
'Save' a written Comment, recorded Media Comment and attached file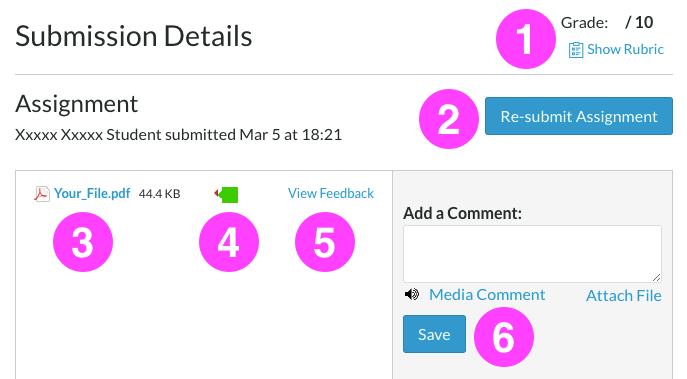 STEP 5 – If you chose to launch the Turnitin Feedback Studio by selecting the coloured 'similarity indicator' (in the previous step 4.4) you will be able to:
view your submission in the 'Document Viewer'
see feedback from your teacher (if provided)
inspect detailed originality information and adjust similarity views, filters and settings
download your 'Originally Submitted File', your 'Digital Receipt' (proof of submission) and view submission information
view a 'Text-only Report'