Voice Narrated PowerPoint using Office 365 for PC
3.  When you click Record Slide Show the following will appear:-
TIP – If you selected a different slide to begin the recording on, the Record Narration dialog box
appears.
Do one of the following:-
To start the narration on the first slide in the presentation, click First Slide.
To start the narration on the currently selected slide, click Current Slide.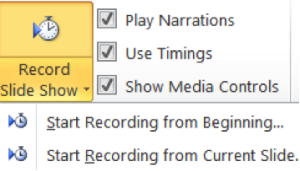 4.  Once you have chosen the where you are going to start your recording the following will appear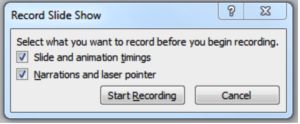 5. Press Start Recording
6.  In Slide Show view,speak the narrative text into the microphone and then click the slide to advance to the next slide. Follow this process for each slide that you want to add narration to
TIP – You can make changes to the slide content but not the recording.
7.  You can Pause recording at anytime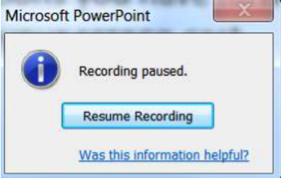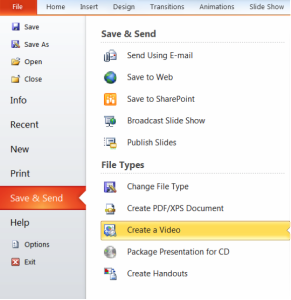 10.  You can now choose how you are going to save your presentation movie
TIP – click Computer & HD displays
Click Drop down arrow next to Don't Use Recorded Timings and Narrations and click on 
Use Recorded Timings and Narrations