All UTS staff members and students have access to the UTSOnline Calendar.
You can access the UTSOnline calendar from:
the "Quick links" tab after login to UTSOnline
the Calendar icon on your Global navigation menu
the Tool page of your UTSOnline subjects (this needs to be enabled by instructors under Tool availability)
In your UTSOnline Calendar you can:
View events by day, week, or month.
Use the arrows to navigate to another month.
Select the plus (+) to create a new event. You can also select a date to create an event. Assign the event to the appropriate calendar, select the date and time, and add a description.
Please note: Students cannot create an event on a subject calendar or institution calendar.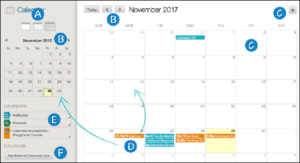 Select an event to manage it. You can also select and drag an event to change the date.
Select the calendars you want to show, such as institution, personal, or subject level. By default, all calendars are visible. You can change the color of each calendar to suit your preference and to easily determine which events correspond with each calendar.
Please note: All institution events appear in the institution calendar. All subject events, such as assignments due, appear in the subject calendar. Subjects you hide in the "My subjects" module on the home page page will also be hidden in the Calendars list.
Get an iCal URL to import your Blackboard Learn calendar into an external calendar application, such as Google Calendar. After the Learn iCal URL is set up in an external calendar, it is updated dynamically with new Learn calendar events.
Please note: External calendars can't be imported into the Blackboard Learn calendar.
Want to change or delete an event?
Find the date of the event in the main calendar view.
Select the event to edit or delete it.
Select and drag an event to another date in the main view to change the date of the event. The time of the event and calendar it is associated with remain the same.
You can also select and drag an event from the main view to another date on the smaller monthly view to change the date.
Please note: Drag and drop an event to another date is only possible in "Month" view calendar.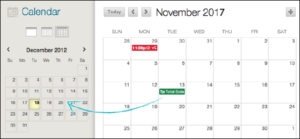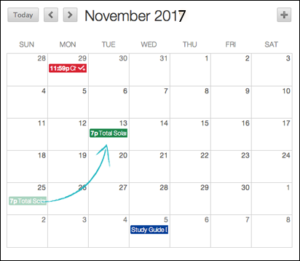 This video explains how to use the calendar to keep track of your events and due dates.