of annotation, explanation, writing and sketching on paper, whiteboard, tablet or computer screen. Using this technique can help explain difficult topics, describe processes, map ideas and introduce threshold concepts.
On this page:
Some clarification on the term 'pencast'
A 'pencast' can have a different meaning to that used here if you look it up online and explore examples. The term though can easily be applied to any video that portrays someone—with a pen—writing, sketching and annotating and making marks to explain something (remember overhead projectors and annotating on transparencies in class?). Similar techniques include whiteboard animation and video scribing. Although this site explores Screencasting and Screen Recording in the Classroom many of the pedagogical drivers are similar and the same apps for screencasting can also be used to produce pencasts.
Some examples
Why Pencast?
A pencast can explain difficult topics, describe processes and map ideas for students before (and after) they come to class. By viewing key concepts or instructions online before class there can be more time in class for critical enquiry and active engagement. The videos can be useful in  introducing threshold concepts and as references in class and for revision.
By planning what you move online in your pencasts, you can save time normally wasted in class explaining the same material. The Pencast format provides the teacher an opportunity to refine an explanation and to do so in a controlled and consistent way. The video becomes a valuable reusable asset which you can use beyond just one semester.
Is the pencast style of video for you?
Is there anything in your subject that would suit the cast format?
Tricky topics or concepts
Explanations and processes
Instructions
Overviews
Maps
Diagrams
Charts… etc.
The 5Cs of eLearning visuals provides a simple checklist for you to access the appropriateness of the pencast format in your teaching.

Find more education infographics on e-Learning Infographics
Flip your flip for assessment
What if you get students to create a pencast? Have the students respond to a challenge to explain and justify reasoning. Get students to map, sketch and diagram their understanding to demonstrate not just what they know, but how they know. The videos can be shared with peers for further group work, critical enquiry and go on to form a collaborative knowledge-base.
Avoid a flop
Imagine you are sitting with just one student. Talk to them and not about them.
Speak naturally and keep it casual.
Display your enthusiasm for the subject (it is contagious)
Use anecdotes to illustrate points. A relevant story can be captivating.
Sketches, doodles and diagrams can weave a narrative and link ideas. You can also use objects like modelling clay, paper cutouts and lego.
Keep the production process simple, accessible and low-tech (you don't have time to compete with Hollywood).
Make it brief and focus only on critical content. If the content has intrinsic learning value aligned to assessment, students will care less about production quality.
How do I make a pencast?
The easiest way to make a pencast is to use what you have on hand – your smartphone, tablet or webcam and any kind of mounting solution you can invent. You can use an app on a tablet that records everything you do, but the fastest method is to use your mobile device as a video and sound recorder. A standard video camera can be used, but you will still need to transfer the video onto a computer afterwards. You might want to explore other approaches depending on your budget, time and preferred style.
With your camera set up, consider using: markers, paper, printouts, cutouts, modelling clay, lego—anything really—and a quiet space with plenty of light. Anything you can use to illustrate your ideas within the camera frame will do. You don't need a script, just a content guide that you can glance at to stay on track and help keep the video concise.
While optional, some editing of the pencast recording can help refine the presentation. Simple free editors like Apple iMovie, Windows Moviemaker and the YouTube video editor can help you add some polish.
Your faculty Educational Designer or Learning Technologist can advise you further.
How do I get videos off my device?
There are many ways to access your video recordings:
Where do I put my videos for viewing?
Embedding YouTube videos in UTSonline is the recommended way to share video with students in the context of a subject.
There is an app for that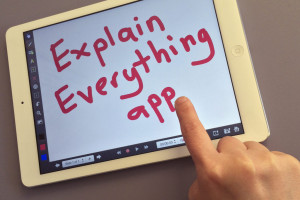 Explain Everything is a popular app that can be used to create a pencast or screencast on a tablet. The app itself contains useful help and the app website is where you will find a rich collection of help and tutorials. There are Explain Everything help documents for Windows, Android and iOS and a free ebook Formative Assessment and Screencasting. UTS staff have already been successfully using this app in their teaching.
Record your iPad or iPhone screen
On an Apple computer you can record your iPad or iPhone screen if you are running the latest operating systems. Everything you do on your device is recorded.