Making Video – General Guidelines for Best Practice
UTS Guide to making videos for Introductory/Transition Weeks
The most important thing to think about with any video is accessibility. Always ensure you provide information for screen readers so that vision and audio impaired students are able to see and hear the information. This could be a text file (your script) or closed captions. See this webpage for more information on accessibility.
When using images, music or any other media sources, you must either own the copyright or use sources that are copyright free, open or have permissive licence agreements. See this library page for more information on copyright. You can also use sites such as Creative Commons to find shareable images.
Tips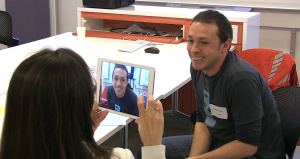 Talk to the students, not about them.
Speak naturally, keep it casual and brief. It is not a lecture.
A simple one-page cue sheet is all you need to start, not a script. Use bullet points to outline the key things you wish to communicate.
Demonstrate your interest in the subject, be authentic and show your enthusiasm (it is contagious).
Talk about the benefits and opportunities – what the subject offers and leads toward. Why is your subject relevant to students now and in the future?
Avoid abstraction, speak in concrete terms about the things students will do and experience. You may wish to add what is expected of them.
Highlight important procedures and content that orient students to the subject. This could include a tour around your UTSonline subject site materials and resources and a description of other tools and technologies they will use with you.
The production process can to be simple, accessible and low-tech! If the content you communicate has intrinsic value to the students, most will care little about production quality.
Think about composition and what is in the video frame. For example, don't have too much space above your head, if you are speaking on camera. Look at what might be in the background, and stage your setting if you need to. See this post for more information.
Keep welcome videos short (5 minutes can seem a long time). If you have a lot of information, provide a summary of content so students know what is covered, and make several shorter videos rather than one long one.
Think about when, where and how students are likely to watch the video. It might be on a mobile device while they're commuting, or in a cafe. Uploading to YouTube is the best as all file sizing and processing is taken care of.
If you are uploading your videos directly into UTSOnline use a compressed file format such as .mp4, which are likely to be easy to access and try to keep your files small. Ask your faculty learning technologist for advice if you're not sure.
If you are recording voice for spoken content, there is no need for stereo. Saving a recording in mono results in a file size half that of the stereo equivalent. You can contact the digital media team for more information here.