LaTex Content is not rendered automatically
This known issue is closed due to the decommissioning of Blackboard on the 31st of August, 2021
Affected Users:
Instructors
Description:
WIRIS EDITOR is a visual editor (WYSIWYG) that allows inserting mathematical and chemical formulas in UTSOnline content. The editor automatically renders the LaTex formula in display mode. The editor also provides the flexibility of post render editing of the formula. LaTeX formula may be edited directly using LaTeX or by clicking in the formula and opening the WIRIS editor for true WYSIWYG editing. On saving the LaTeX expression is converted automatically in mathematical equation. This serves as a useful tool for those who have libraries of LaTeX formula as those may now be copy-pasted into the editor for reuse or as the basis for the new formula.
WIRIS Editor can be accessed from the UTSOnline Content Editor by clicking the

 button.
At present, there is an issue where LaTex content is not rendered automatically and the LaTex variables are appear as text.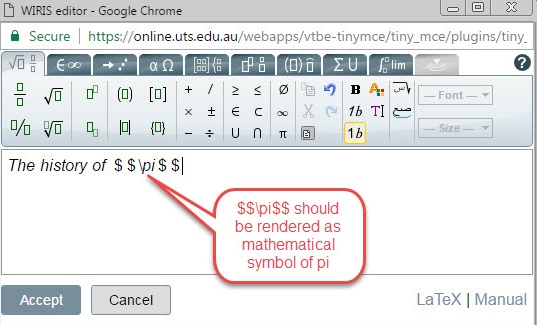 It is recommended that Instructors do not rely on the LaTex and use the buttons provided with the WIRIS Editor to create needed formula/mathematical expressions.
Date reported:
23rd of March, 2017
Status:
The UTSOnline vendor has acknowledged this issue as a software defect which has been fixed in the latest release of Blackboard.
Workarounds:
Please use the provided buttons for inserting Mathematical symbols in content.