Cannot hide the Quiz attempt score from students
This known issue is closed due to the decommissioning of Blackboard on the 31st of August, 2021
Affected Users:
Instructors
Description:
When setting up a quiz, an Instructor has the option to determine when students can see their score under the Show Test Results and Feedback to Students section (see image below):
In the above image, the Instructor has configured the test results to become available to students after the due date.
However, when a student submits their quiz attempt before the due date, they can still see their attempt score when reviewing their submission (see image below):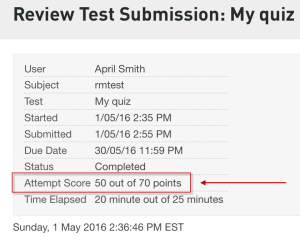 The reason for this behaviour is that the attempt score is dependent on the hide/show setting of the quiz's grade column, and not from the Show Test Results and Feedback to Students section in the quiz settings.
Status:
The UTSOnline vendor has confirmed that the visibility of the attempt score was designed to be a grade centre feature. A request to change this functionality so that the attempt score setting can be configured within the quiz settings page has been submitted to the UTSOnline vendor.
Workaround:
To prevent students from seeing their quiz score after submitting their attempt, an Instructor needs to hide the quiz grade column from students. Once the grade column is hidden, student's will not be able to see their attempt score (see image below):
Because the grade column is now hidden, it is recommended that an instructor sets reminder to themselves to ensure the grade column is available when the quiz results can be released.