Setting up the look and feel of your site
About your subject site *
When you access a site in which you are an instructor you may see a site that has already been used in previous iterations of the subject OR you may have a brand new site that has a default structure. You do not need to retain the existing look and feel – you can customise the style and layout. Below is a simple guide to how you can quickly and easily make a more logically arranged, stylish and welcoming site for your students.
Configuring the subject site menu *
The subject menu is the panel on the left side of the interface that contains links to all top-level subject areas. Instructors control the content and tools available in the subject menu. Instructors can also customise the appearance of the course menu by changing the colour, adding sub-headers and dividers, and choosing to display links as buttons or text in the menu.

Adding items to the subject menu *
Additional links can be added to the subject menu. These menu items include web links, content area buttons, tool links, course links, module pages, and blank pages. Dividers and sub-headers can help you organise menu items into logical groups.
Renaming and reordering menu buttons *
Existing menu links can also be renamed to best reflect your subject content. These links can also be reordered by hovering your mouse cursor on the left side of the button until an arrow appears. If you click-hold and drag on this arrow you can move the button to a new position in the menu.
Customising the look and feel *
You can customise the look and feel of your UTSonline subject site. To change styling options, access the Control Panel and select Customisation -> Teaching Style.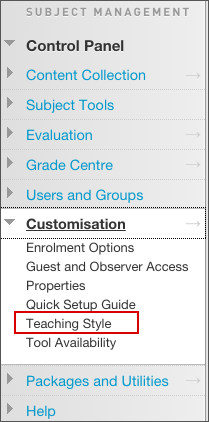 Within this Teaching Style section, you will be able to:
Change your course entry point
Select your course theme (we recommend the default colour scheme—and optionally—your own menu colours)
Change your course menu link style (appearance as text or button)
Upload a subject banner (an image
Adding a banner *
Adding a banner to the Home Page will help students orient themselves within Blackboard so they will know which subject they have entered.
Follow these steps to add a banner to your home page
Click on the Action button next to Home Page
In Option 1, Page Banner Content, delete and retype the page name as desired using the Text Editor
Note: While a textual name is not required, it is recommended that some textual reference to the course or page name remain for the purpose of page accessibility. If your name is within a graphic banner then always add the alternative text to describe the image.
To add a Banner Image:
Click the Insert/Edit Image icon in the text editor to add a banner image to the page

When the dialogue box loads as below:
Select your preferred option and load your image – you can
– Browse My Computer – use this option if the image resides on your computer
– Browse Subject – use this option if the image has been uploaded to the Subject before
– enter a source Image URL – (use this option if the banner image already exists online)
You can also add a banner if you decide to change your subject entry page . View this Blackboard how-to video to see how it is done ("Subject" is the same as "Course" here).