4. Grade Submission Automation Processes for Faculty Admin & Support

Download this page as a PDF
(Right click -> "Save Link As…")
On this page:
How to Enroll into a Subject as a Faculty Admin or Grade Faculty Admin (to set up or submit grades on behalf of the coordinator)
Overview
Faculty and school support staff play a role in managing the Grade Automation Submission process, though this varies by faculty and school. At a minimum, each faculty must have one or more people with the right permission levels to facilitate end-of-session grade adjustments.
This is done in Blackboard via the new Grade Faculty Admin user role. The Grade Faculty Admin role builds on the pre-existing Faculty Admin role in Blackboard, and can:
Enrol in any subject in their Faculty as a Co-ordinator, and configure any aspect of the Grade Centre
Make the end-of-session grade submission to CASS on behalf of a subject co-ordinator
Note: in an early version (2018) of the grade submission process, the Grade Centre would lock after submission, and a Grade Faculty Admin would need to unlock it to make changes. This is no longer the case – now (2019+) the Grade Centre always remains editable and can be resubmitted, though changes won't be processed if they're submitted outside of set due dates.
 
Blackboard User Role
Faculty Admin
Grade Faculty Admin
Purpose
Help set up a Blackboard subject
Help set up a Blackboard subject, manage the final Grade Submission process
Self-enrol in a subject as:
Instructor
Co-ordinator
Set up assignments, configure Grade Centre columns, enter grades, and calculate totals?
Yes
Yes
Submit grades to CASS at the end of the session?
No
Yes
Note: If you think you should be either a Faculty Admin or a Grade Faculty Admin and you're not currently (ie. you can't see the 'Systems Admin' tab – see below), lodge a Service Connect request (fill out this ticket and choose – "Team: ITD", "Related to: Access", "About: Something else not listed here".) This should be done in consultation with your A/Dean L&T.
Note: Support requests for Grades Admin are generally handled by the Student Administration Unit (SAU). Lodge a regular support request via ServiceConnect and include "Grades" and "Admin" in the subject to expedite your enquiry.
Instruction Summary:
Enrolling into a Subject as a Faculty Admin or Grade Faculty Admin
Log in to UTSOnline and click on System Admin
Click on the Subjects link
Search for your subject
Select your SubjectID
Click on Quick Enrol+
Accept (OK) the enrolment
Enrolling into a Subject as a Faculty Admin or Grade Faculty Admin
Log in to UTSOnline and click on System Admin in the top navigation bar. NB: If you can't see the 'System Admin' option the navigation menu may have collapsed because your screen isn't wide enough. Click the three horizontal line icon in the top left corner to expand.
More likely, if you can't see the menu you probably don't have the Faculty Admin or Grade Faculty Admin role and permission set. See above.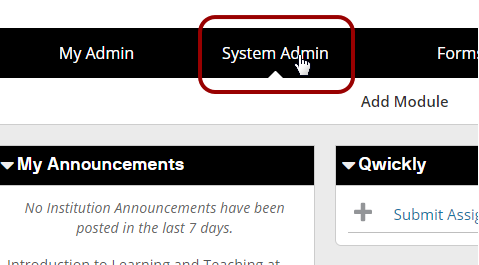 On the System Admin screen, click on the 'Subjects' link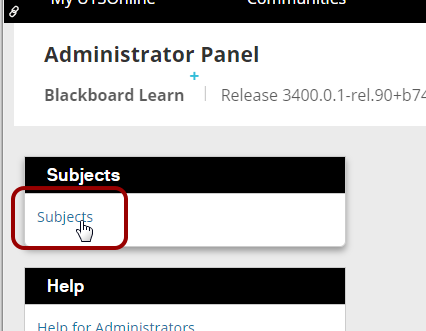 On the Subjects page, use the search controls to find your subject. The easiest way to do so is to enter keywords from the title of your subject, and leave the other settings as is. Click on 'Go' to start your search.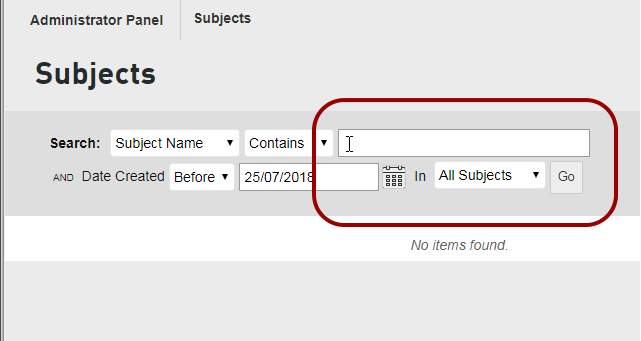 Find your course, and click on the Subject ID link. The search returns all historical matches, so MAKE SURE YOU SELECT THE RIGHT YEAR AND SESSION!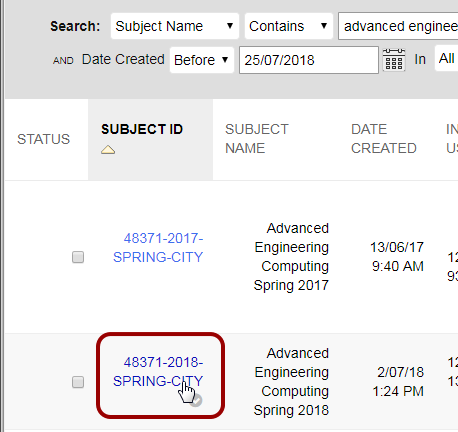 In the left-hand navigation column, click on 'Quick Enrol'.
Troubleshooting: "I can't see the left column" – it may be minimized. Click on the blue vertical bar on the left edge to make it appear.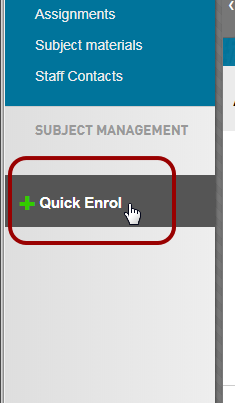 Accept your new enrolment by clicking 'OK'. Remember:
Grade Faculty Admin – Becomes Subject Coordinator
Regular Faculty Admin – Becomes Instructor