Managing A.nnotate readings just got easier
We've observed the problems you've had when setting up A.nnotate readings and listened to your feedback. Since then we've worked with the developer to ensure that the process of adding and managing A.nnotate readings is as easy as we can make it.
Adding A.nnotate readings
We've made two improvements to the process for adding readings:
The "to" date for a reading is now left blank. When left blank the reading will become unavailable to staff/students until it expires from the library's DRR.
Files are now sorted by author, date and title. This makes them much easier to find in the list. For example:

Managing A.nnotate readings
We've introduced sets to manage readings. Each set contains all the copies of a PDF for the selected UTSOnline groups.
For example, the reading set below contains copies of the PDF "Sample text for Annotate testing" for the groups Lecture 1, Tutorial 1 and Tutorial 2.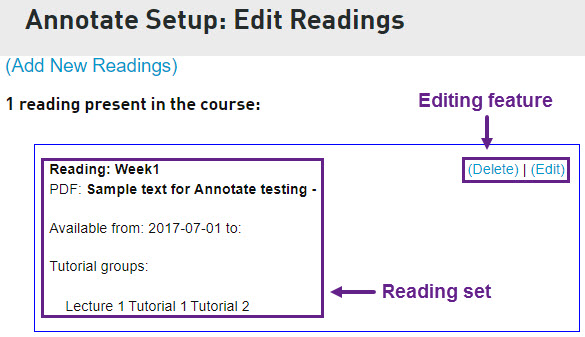 You can edit or delete sets. The editing options are:
Reading name. This is added to the title of the PDF file as provided by the DRR. For example, "Week 1 – Something New in the Air from Africa?"
Tutorial groups. You may add or remove a group or groups from a set
From and To date. You may change the date(s) that a reading is available
IMPORTANT: Once created, it's not possible to change the PDF assigned to the set. To change the PDF you'll need to delete the unwanted set and create a new one based on the desired reading.
What hasn't changed?
Most A.nnotate features remain the same. For example, readings are still sourced from the Library's DRR. There are no changes to adding or editing annotations.
We'll continue work with the developer to improve the functionality of annotate. If you have any suggestions then please get in contact with your Faculty Learning Technologist.
Known issues
You'll need to use the date picker (highlighted in orange below) to select the to and from dates for the reading set.



Dates entered using the keyboard will not "stick". We have reported this issue to the developer.