How to make a video or screencast – examples
Here we have gathered a range of example welcome videos delivered by UTS staff. Each showcases different combinations of context, format, and technology. As you browse the examples think about your own technology skills, time available and context.
Talking Head Video
By creating a talking head video introduction of yourself and your subject, your students will know what you look like, they will know what your subject is about and have a basic understanding of what to expect.
Example:
Elaine Huber, Graduate Certificate of Higher Education (IML)
Elaine was a guest lecturer for one week in this subject. She wanted to send a just-in-time reminder for students to complete the flipped materials before class as well as say hello.
Technologies required: This video was recorded directly onto a Mac laptop using the Photo Booth program which comes with the operating system. The file saved as an .mp4 and she uploaded the movie (5.3 Mb) into her YouTube account then grabbed the embed code and added it to a page in UTSOnline.
In this example the students can view the video within UTSOnline without leaving the page.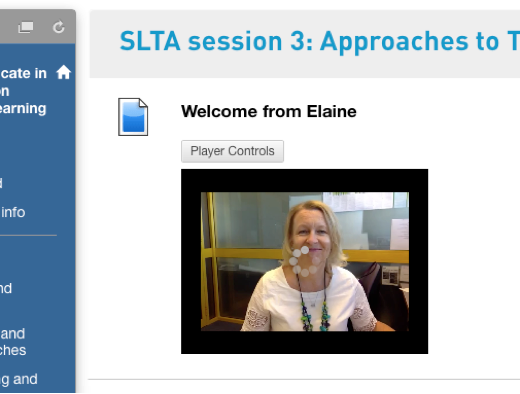 Screen Recording (Screencast)
A screencast is a recording of computer or tablet screen activity with voice over. By using narrated screencast video walkthroughs you will be able to help your students understand how your subject content is laid out, where to find things, what is critical for them to know about in order to complete your subject successfully.  Screencasts also allow you to create a good introduction for students without appearing on video yourself, although it's useful to introduce yourself and have a photo, so that students can recognise you.
Example
Alan Sixsmith, School of Systems, Management and Leadership
This welcome video is made using voice-over PowerPoint. The resultant video is saved as a .wmv file and uploaded directly into UTSOnline. Students click on the link, download the file and can watch offline.
Technologies required: This screencast requires PowerPoint, and a microphone or other audio input to the computer. It can be carried out on both Mac and PC. See these pages for more details on how to do this on a Windows PC and on a Mac.
Combining presenter style with screen recording, sequentially
Example
Professor Jane Phillips, Director, Centre for Cardiovascular & Chronic Care
This subject is part of the Postgraduate Nursing Studies program.  Students have three study days throughout the term so this team of academics are looking to use video as part of their conversation with their students in online and asynchronous modes of communication.
Technologies required: This video was recorded in Jane's office (recorded, edited and hosted in YouTube/UTSonline in 1 hour during her tight schedule) with a Rode Podcaster microphone from AVS on a Mac laptop and assistance from a learning technologist. It's an example of results achievable in an academic's office. Quicktime was used to edit the video. Similar actions can be performed on a Windows operating system using the free program Movie Maker.
What students see on UTSOnline: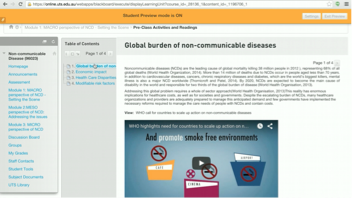 Combining presenter style with screen recording, in parallel
This technique is called Picture-in-Picture. Here, a screencast is the major part of the video but the speaker can be 'placed' within or by the side of the slides. You can use a moving or static picture of the presenter. This helps the student connect to the speaker.
Example
Dr Robert Czernkowski, Accounting Discipline Group
The video begins with the Subject Coordinator introducing himself. Then he switches to screencasting but keeps a small picture of himself speaking in the bottom right corner. He switches between slides and a subject walkthrough/explanation for students about the subject layout and what to expect.