Lecture capture with Echo360 ALP
If you are teaching in the CB05.01.11 or Guthrie Theatre during a major session, your lecture will be recorded by the Echo360 Active Learning Platform (ALP).

What is Echo360 Active Learning Platform? *
Echo360 Active Learning Platform (ALP) is a service that allows the capturing of lectures in the CB05.01.11 and Guthrie Theatre. Echo360 ALP also has the Personal Capture (PCAP) tool that allows Subject Coordinators and Instructors to create content on their computer by capturing a combination of the audio, video, and computer screen.
How is my lecture captured? *
Prior to the start of a major session, a schedule according to the timetabling system is uploaded into Echo360 ALP. This schedule contains the dates and start times for the first weekly lecture of each subject presented in the CB05.01.11 and Guthrie Theatre. If a subject has repeat lectures in the same week, the repeat lecture is not included in this schedule.
Using this schedule, Echo360 ALP will automatically commence capturing the lectern output and audio (provided the lectern microphone is not muted) at the lecture start time and will stop recording 5 minutes before the timetabled finish time. During the lecture, Echo360 ALP will live stream the recording through UTSOnline.
Following the conclusion of a lecture, the recording of that lecture is uploaded into Echo360 ALP, processed (may take 1-2 hours), and then published which will allow students to view or download the lecture recording.
How do I access my lecture recordings? *
UTSOnline subject sites that are scheduled to be captured by Echo360 ALP will have a menu item titled Lecture Recordings that will contain a link to the Echo360 ALP service (see image below):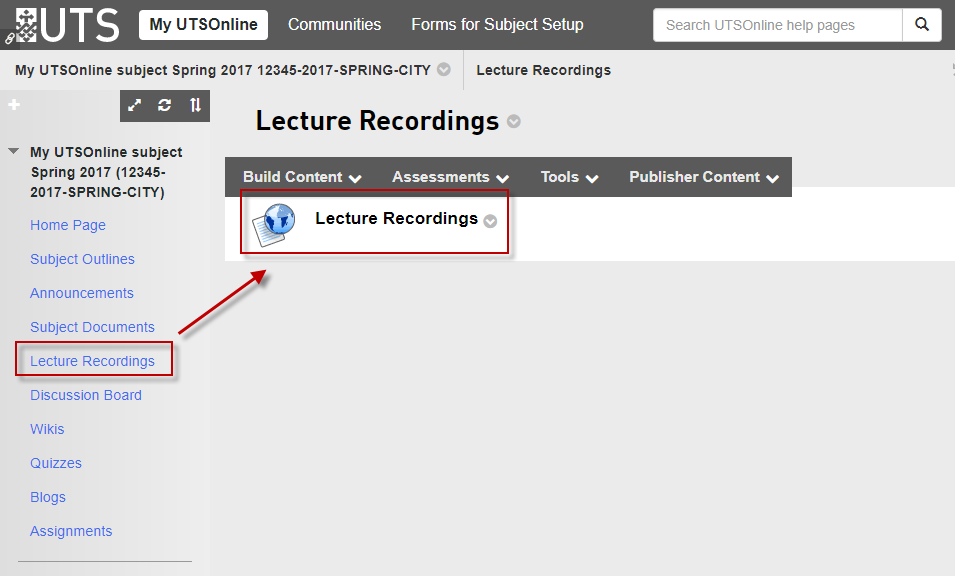 Using this link, students can access Echo360 ALP to view a live stream of the lecture and/or access a recording of the lecture. Subject coordinators and Instructors can use the Lecture Recordings link to access Echo360 ALP for managing their lecture recordings.
If you do not want your students to access the lecture recordings, you are able to hide the Lecture Recordings link in your UTSOnline subject site.
Can I change how my lecture is captured? *
You can request an alternative set up for the capturing of your lecture by logging a service request in UTS ServiceConnect. Changes include:
Recording the camera input plus lectern output
Record a different lecture in a series of repeat lectures
Change the start and end times of a lecture capture
Turn off live streaming
Make recordings unavailable to students after processing
Disable downloading of lecture recordings
Make a recording from a previous session available to students in your current UTSOnline subject site.
Managing lecture recordings in UTSOnline *
Visit our Echo360 Recording Management page for detailed information on changing the visibility of your recordings.