Managing subject site availability
IMPORTANT: Students enrolled in an unavailable UTSOnline site still receive email notifications. Please be aware of this when posting Announcements or sending email.
One of the methods of controlling when your UTSOnline site is accessible to students is through the configuration of the Site Availability setting. This setting can be accessed in two locations:
Through the Qwickly Productivity tool
In the Control Panel of your UTSOnline site
When available, your UTSOnline site will be accessible to students enrolled in that UTSOnline site. When your UTSOnline site is unavailable, students will not be able to see it under their My Subjects module and therefore will not be able to access it. There are two things to note when your UTSOnline site is unavailable:
Enrolled students will still receive email notifications sent from your UTSOnline site.
Other Instructors can still access your UTSOnline site.
Via the Qwickly Productivity Tool:
To make your site available via the Qwickly Productivity tool, please click on your Qwickly module and select "Subject Availability". Here you can make your site available by selecting the "ON" button.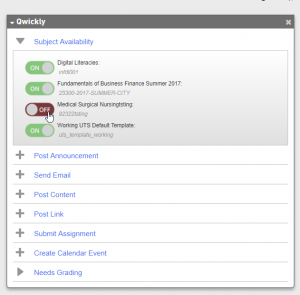 Please note: You will find Qwickly module at top right when you log in to UTSOnline.
Within UTSOnline site:
Alternatively, you can access the site availability setting inside your UTSOnline site. Please refer to the steps below which in this example, illustrates how to make your UTSOnline site unavailable.
Click on the left and right arrows below to navigate through the slides. If you cannot see the arrows, please use the bullets located below the slides:
The above steps are available for download: