Getting around UTSOnline *
The UTSOnline environment can be easily navigated by utilising the main tabs across the top of your screen.
Click on the left and right arrows below to navigate through the slides. If you cannot see the arrows, please use the bullets located below the slides:
You can also navigate easily by utilising the Global Navigation Menu which you access from the Dashboard link at the top right of the UTSOnline page.
Everything you need for your UTSOnline experience is in this convenient location. Your Dashboard provides you with quick and easy access to information regarding your institution and your subjects. From the Dashboard, you can view how you are doing in each of the subjects you are enrolled in, view grades, be reminded of assignments that are due, and much more.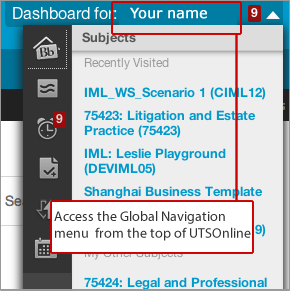 Watch a tutorial to get the most out of the Global Navigation Menu

The table below provides a quick definition of the tools available from the dashboard.
Tools
Description

Bb Home

: Gives you an overview of the items that are due and recently graded. Move your mouse pointer over

View

to reveal your grade. Bb Home displays the five most recent activities relevant to you.

Calendar

: Review everything you have due and be reminded of when you need to complete it. To learn more, see Calendar 

Posts

: Displays the posts made in the

last seven days

in the subjects and communities you are enrolled in and follow. For example, you can see when a classmate submits a blog post in your course.

Updates

: Review a list of notifications alerting you to important events and information. For example, you can see when an assignment has been graded. To learn more, see Updates 

My Grades

: View your grades for each assignment, test, or activity in all of your courses. Sort the grades by date or course. To learn more, see My Grades 

Home

Help

: Go to Behind the Blackboard for manuals, tutorials, and more.
The My Subjects module *
The My Subjects module allows both staff and students to access available UTSOnline sites that they are enrolled in. For more information, please refer to the The My Subjects module help page.