Embedding a YouTube video in UTSOnline
To embed a YouTube video in UTSOnline you'll need to:
(a) get the embed code for your Video from YouTube and
(b) enter the YouTube embed code into UTSOnline
Part A: Getting the embed code from YouTube
Important: These steps must be performed on the desktop version of the YouTube website (www.youtube.com).
Step 1: Sign in to YouTube and click on My Channel: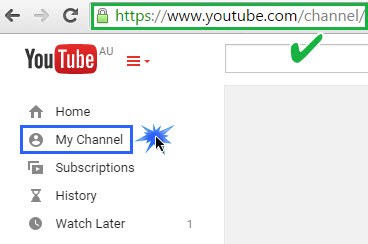 Step 2: Go to the Video Manager:

Step 3: Click on the video you want to embed from the list of available videos (do not choose the Edit option). The video will start to play automatically. Stop it if you like.
Click on the Share option (found underneath the video's title). Ignore the https://youtu.be/ link unless you intend to link to the video instead of embedding.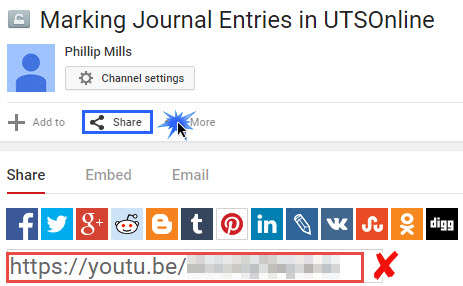 Note: If the Share option is not shown then the video's privacy level has been set to Private. To share the video you'll need to change the privacy setting to Unlisted or Public. To change the privacy settings, click on the padlock symbol next to the title of your video, then change the privacy settings to Unlisted or Public and save. Once you've saved the changes you may need to refresh the web page for the Share link to become visible.
Step 4: Click on the Embed option, followed by the Show More option located below the embed code. Make sure the "Show suggested videos when the video finishes" option is not ticked. This will prevent other videos from being displayed after your video finishes.

Next copy all of the embed code:

Note: The embed code will always begin and end with an iframe tag, e.g. <iframe… </iframe>.
Once you've copied the embed code you're ready to begin entering it into UTSOnline.
Part B: Entering the YouTube embed code into UTSOnline
Step 1: In UTSOnline, open the content editor in the location where you want to embed your YouTube video (e.g. a Content Area, a Journal, Blog etc.) Click on the HTML Code View option:

Hint: If the HTML button is not visible click on the Show More button

to display all the available editing tools.
Step 2: Paste the embed code in the HTML code view window and click update: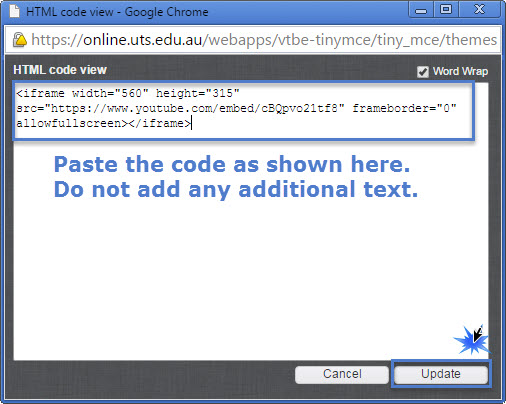 Step 3: The embedded video will appear as a yellow box in the editing window. Click Post Entry or Submit to finalise embedding the video: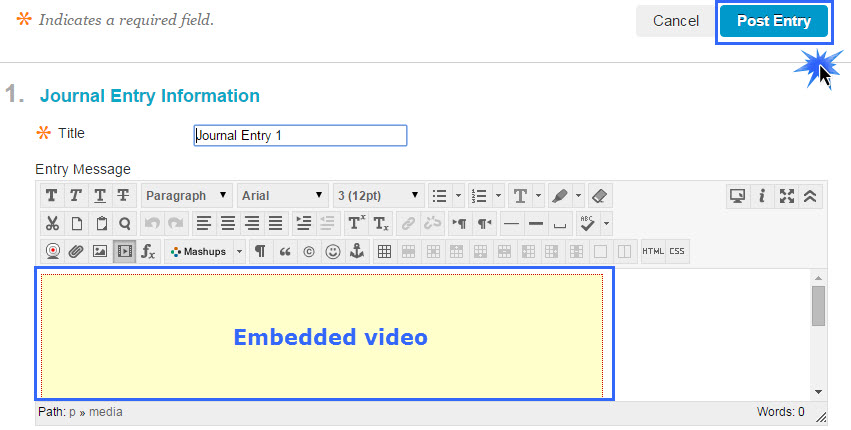 Step 4: The embedded video will be displayed. Click Play to preview: