Configuring REVIEW for Grades Submission
How will it work?
REVIEW can now be configured to automatically send marks to a column in the UTSOnline Grade Centre or Canvas Marks. The process is straightforward and requires only a few (if any) additional steps in REVIEW.
Once set up, marks will be automatically transferred from REVIEW to the UTSOnline Grade Centre or Canvas Marks as soon as they are published in REVIEW. Similarly, marks will be cleared from the UTSOnline Grade Centre or Canvas Marks when they are un-published in REVIEW.
How do I set up REVIEW for grades submission?
Creating New Tasks
When creating a new REVIEW task the Sync with LMS check box will be automatically ticked:
Saving the task will automatically create a column in the Grade Centre of the linked subject. For example: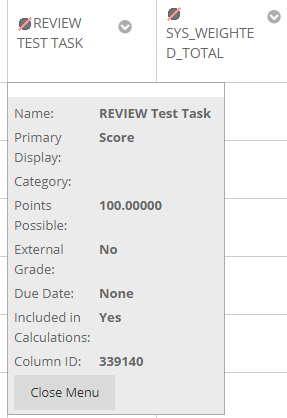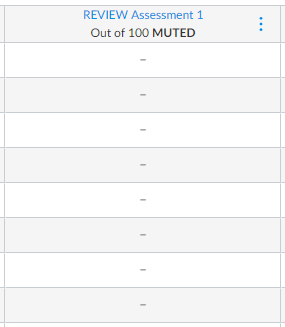 All Grade Centre columns created by REVIEW will:
Have a title composed of the word REVIEW followed by the name of the task as displayed in REVIEW, e.g. "REVIEW Assessment Task 1"
Be out of 100 points
Be set to be included in Grade Centre/Marks calculations
NOTE: Subject coordinators will still need to specify the weightings given to each column when configuring the System Weighted total column in UTSOnline.
Cloning Existing Tasks
After cloning your task simply:
Set the Task to Active and
Check the Sync with LMS check box
This will automatically create a Grade Centre column in UTSOnline.
How do I transfer marks from REVIEW to UTSOnline/Canvas?
Publishing marks in REVIEW will automatically transfer them to UTSOnline/Canvas. Un-publishing a mark in REVIEW will clear any marks in UTSOnline/Canvas that were previously transferred from REVIEW.
How do I know if marks have been sent to/cleared from UTSOnline/Canvas?
After publishing, you'll see a message confirming that marks have been queued for sending or clearing. For example: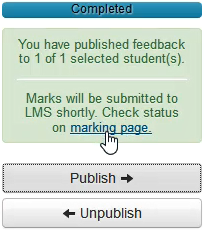 You can check if marks have been successfully transferred on the REVIEW marking page. For example: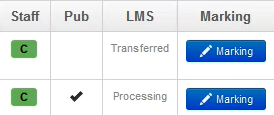 Marks will be in one of the following statuses:
Pending – waiting to be sent to UTSOnline/Canvas
Processing – being sent to UTSOnline/Canvas
Transferred – successfully sent to UTSOnline/Canvas
The same status messages will be displayed when marks are cleared by un-publishing them in REVIEW.