Making short videos to present content: The process
Today we are talking with Professor Andrew Jakobowicz about his use of the Green Screen in creating video content for student pre-class viewing.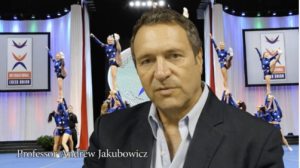 Andrew Jakubowicz is Professor of Sociology in the School of Communication, Faculty of Arts & Social Sciences at UTS.
Why did you decide to create these videos?
The videos were part of a flipped learning revision of a subject previously taught in normal mode. As there were a number of lecturers, I wanted to capture their presentations in accessible and reviewable formats.. Live lectures tend to be an unbroken monologue, varying in impact depending on the quality and performance skills of the lecturer. In large darkened lecture theatres, the PowerPoints can produce glare and result in a disembodied voice. Normal automated video recordings of lectures tend to produce low quality images and poor sound, particularly if there is no post-production.
I wanted to create some stand-alone materials around sub topics. I could have produced online voice-over-PowerPoint which would be viable enough but I also wanted to add value by adding presence. I wanted to engage with my students and add the element of performance that they experience in a live lecture.
As we had a number of guest lecturers the quality of each week was variable, and the lectures didn't necessarily tie well into the overall theme of the subject. These lectures were not well linked to tutorial work and were not examinable, so there was no compulsion for students to attend. I decided then in order to focus the lecturer input and generate more energy and immediacy, to interview the lecturers instead. This different modality adds an extra dimension. Continue reading →